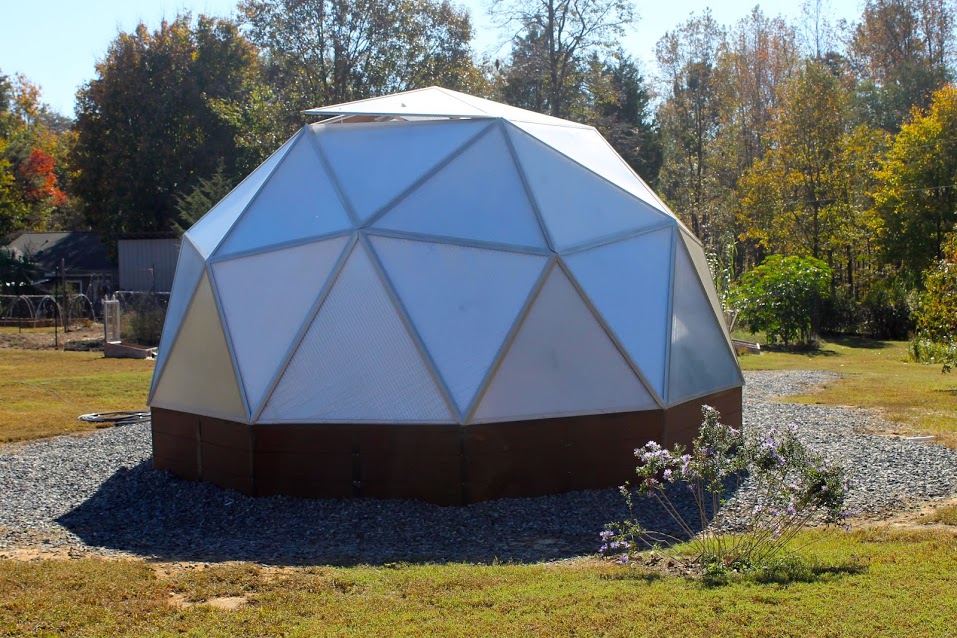 Superfood crops
Shiitake Mushrooms

Shiitake Mushrooms are inoculated into freshly harvested, healthy hardwood logs in the early spring. An inoculated log will produce mushrooms for several years. The natural cycle of production normally brings a "flush" of mushrooms in the spring and fall of each year—with smaller amounts of mushrooms appearing when weather conditions are conducive.

In order to have fresh shiitakes available in the winter months, logs are rotated in and out of the geodome for a couple of weeks duration for warmer temperatures that will encourage growth.

Fresh shiitakes are stored in refrigeration in paper bags (never plastic!) and stay nice for 10-14 days. They will naturally dehydrate if unused and can still be enjoyed.

There is a plethora of research that confirms the medicinal properties and health benefits of Shiitake mushrooms. These super foods are increasingly popular and delicious!
Dehydrated Mushrooms

During a seasonal flush, shiitake harvest can easily exceed demand for fresh mushrooms. Premium slices are dehydrated, as well as stems and pieces.

The dehydrated Shiitake slices offer convenience for restaurant chefs as well as home cooks. Every pantry should be stocked with these nutritious, delicious beauties. The shelf life is infinite in dry storage or freezer. Slices are sold in retail or bulk packaging. Bulk are vacuum sealed in reclosable bags. Absolutely no waste because you can use exactly what you need.

Rehydrate slices for about 20 minutes in liquid of choice (water, broth, wine, or other) to grill, sauté, or prepare in recipes. Please remember to reserve the remaining liquid for flavorful broth! Another option is to add slices directly to soups or sauces and allow to rehydrate during cooking process. Prepared rehydrated shiitake slices have the same distinctive, delicious flavor and consistency as fresh mushrooms. For an extra crunchy treat, crumble dehydrated slices for salad topping or other garnish.

Shiitake mushroom powder is a versatile culinary condiment. For example, add to coffee and smoothies; dust meats for roasting; bind ground meat for patties or meatballs; flavor sauces and soups; and enhance virtually any recipe! Mushroom powder is retail packaged in convenient sift/pour bottles; and bulk packaged in vacuum-sealed, reclosable bags for an infinite shelf life.

Our new Shiitake Mushroom Super Sauce is tasty blend of superfoods that include mushrooms, ginger and turmeric for immune system boosting goodness. Available regular and sugar-free, Super Sauce is a great marinade for meats and veggies, dipping sauce, and salad dressing—a functional food concoction easy to incorporate into any menu.
Berries

Summertime is berry time at Fogwood Farm and grandchildren love picking their fill!

Blueberries, packed with health benefits, are sold fresh during July. They are also frozen to use in Fogwood Blueberry Syrup

Blackberries grown at Fogwood are quick frozen for use throughout the year in jams for retail. Blackberry Jam and Jelly is also a favorite restaurant selection in half gallon jars.
Ginger and Tumeric

Baby ginger and turmeric are annual crops grown at Fogwood Farm. Organic seed root from Hawaii is the beginning of each plant every spring.

While the beautiful plants are lovely to enjoy, the yummy roots are forming into perfect fresh baby ginger and turmeric.

Harvest is in October. These superfoods are a quick sell-out every year. The leaves from the harvested plants are also great for making teas, wrapping fish for baking, and other culinary uses.